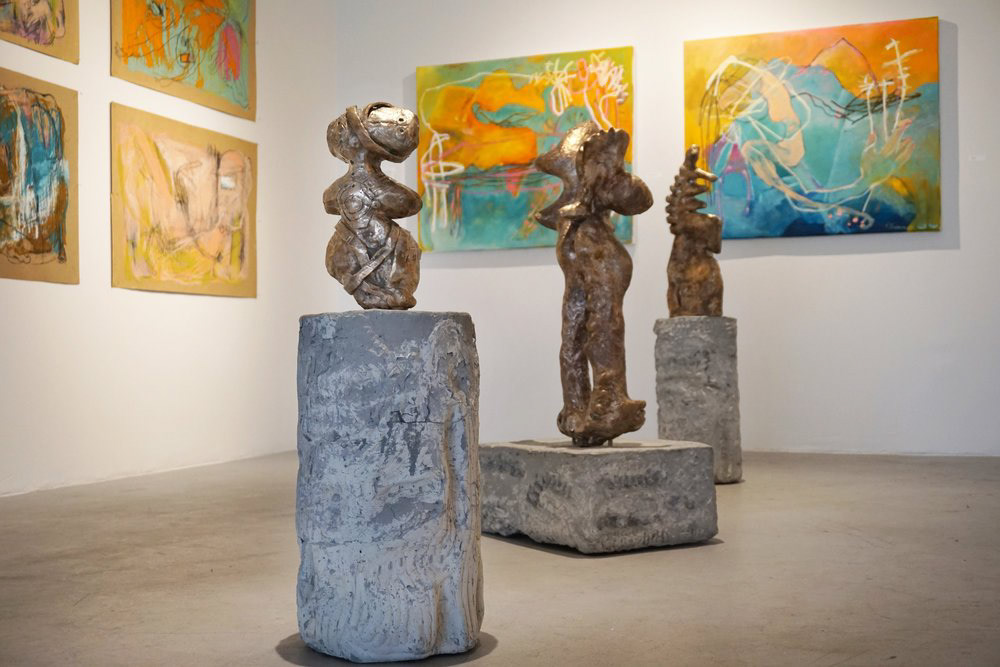 EXHIBITION RELEASE
House of Wren is pleased to announce New Anatomy, an independent exhibition formally unveiling the third collaboration between Kaye Freeman and Cybele Rowe as The Love Armada. In their 30 year relationship, the art partners have traveled from Australia through Japan, New York and Dubai before arriving in California with their utopian yet antediluvian paintings, drawings and sculptures.
Together the artists capture the tension and energy found beneath the cranes and reflected sunlight enveloping the dense streets of downtown Los Angeles. Sculpting and drawing morphological forms riddled by super hot colors, the bodily movements of our city eventuate into their cultural objects of preciousness placed in a cocoon of conscious artistic participation. These contemporary works refuse the contrived as they reside in a constant state of metamorphosis, maintaining larva like potential.
The Love Armada began as an experiment. Rowe was to create the form and Freeman would skin the surface in paint; never knowing how the pieces would turn out until they were finished. Since making their collections of Love Bombs and Brutal Shields, a decision was made to premier their latest works as separate artists showing together at Castelli Art Space.
During her recent time between countries, Freeman developed a luxuriated diary of abstract drawings. It can be viewed as a narrative punctuated by evolving forms, deeper abstractions, personal trials and triumphs. "I agitate with my use of color, composition, scale and themes. My wish is that in looking at my work the viewer will reinterpret everyday banalities in a new and exhilarating perspective," says the painter. In chaotic vehement she tests the limits of oil stick on paper in more than 165 drawings.
Freeman will present her most challenging painting to date titled "DTLA as The Garden of Earthly Delights." This 30 foot triptych commenced with the fervid inspiration of the city, an ode noted in scale, and was completed after her American citizenship was granted. Its bright colors cut through and vindicate the dark, gritty imagery of homelessness, culture, gender, politics, spirituality and all that Los Angeles has come to embrace between its historic architecture. Recalling the melting abstractions of Francis Bacon and allegorical sensibilities of Hieronymus Bosch, Freeman examines the here and now with her tempestuous brushstrokes.
The artists are classically trained in ceramics, painting, ballet, yoga and gymnastics; their pugnacity contests disciplined minds and turns on its head the institutionalized arts education from which they came. Through careful craftsmanship and more than 70 years of cumulative practice, the pair have unlearned rigorous natures to establish a method of abstraction witnessed in New Anatomy.
"The process," Rowe notes, "is in finding the right medium that suites the message and then pushing that material to what I feel is its most expressive form." Her applied methods, conjured over years of research and thinking, sets her free in the studio with a fully evolved arsenal in an abundance of materials. Most recently, the artist has focused on lightweight concrete and one-off bronze castings. The sculptor believes abstraction to be a mindset, "where what needs to be said now lies is in the space between," opening a channel of questioning while quieting the mind. 
With sculptures spanning the codex of clay, wood, concrete papercrete and metal, Rowe creates organically and intuitively. Her meditations lead her hands to read the form during the making process, constructing a unique model through almost subconscious anticipation.
The Love Armada confronts in beauty the true nature of living, challenging the viewer to imagine places beyond the ordinary, on the macro scale of organisms. Grounded in a foundation like the new structures in downtown Los Angeles, the nature and power of their work ignites and invites all of us to identify with feminist abstraction. This traction parallels with Chaturanga Dandasana placing New Anatomy at the forefront of a fearless and strong movement creating a language for metaphysical pride.